Make Your Own Neon!
Neon Classes in Lyndhurst, NJ
The Neon Weekend session is ideal for anyone at any level including artists, architects, designers, engineers and all else interested in this fascinating process of making luminous tubes of all shapes and colors.
Our neon classes in Lyndhurst, NJ, are held the last weekend of every month, Saturday and Sunday from 10 a.m. to 5 p.m. You will need to pack a lunch as we will have a short break at 1 p.m. at the facility. The fee includes all the glass you will need to learn basic techniques and a power supply used to light your creation. Very close supervision and guidance is provided as the session is limited to 3 individual participants only.
You will learn about safety in the neon shop, the history of neon, basic glassblowing techniques, neon design and fabrication and leave on Sunday with a working neon creation of your own!
Learn Glass Blowing Techniques
Random Neon LLC's instructor will teach basic glass blowing techniques as applied to neon tube bending. You will use the basic bends to form your own neon design.
While you are learning the basics of the process, you will also learn about the tools and equipment involved with glassblowing, including general safety and handling practices.
Learn Neon Design Techniques
Mounting of the neon piece must be considered and designed into the final piece. The various mounting techniques (such as "skeleton" sign mounting and mounting on acrylic) will be discussed.
Working with neon signs and designs is another portion of the class. During this section, you will learn to incorporate neon sign-making techniques into the process. You will apply what you have learned about glassblowing to plan and create as you work towards your final piece.
Leave with Your Own Creation
Once you have created your own neon sculpture, you will see the instructor process your neon tube and charge it with neon or argon gas and make it light up ready for you to take home!
Whether your plans have involved a neon sculpture or a sign, you will take home a work of art you can proudly display. After all, it's your creation. The instructor will help you pick a color to make your final piece stand out.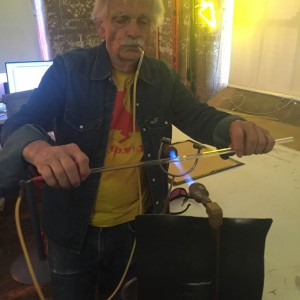 Introduce Yourself to an Exciting New Skill with Neon Classes in Lyndhurst, NJ
If you have ever wanted to create works of art like a real glassblower; now, you can. Random Neon LLC provides an immersive experience that allows you to explore the world of glassblowing. By enrolling in our weekend neon classes in Lyndhurst, NJ, you will discover how to design, craft, and finish a neon sculpture–from start to finish.
You will receive instruction in a small workshop setting, allowing you to know the intricate details of how glass and neon gas create colorful and attractive sculptures. Class size and availability are very limited, so we recommend calling us to reserve a spot for neon bending classes in advance.
Contact us to reserve a spot at our next neon class. Our workshop is located at 290 Grant Avenue, Lyndhurst, NJ  07071